Are you not seeing the fitness results you'd like to see? If you have a healthy workout regimen, but aren't seeing any change in your fitness level, your eating habits may be to blame. It is easy to make nutrition mistakes that may be preventing you from being as in shape as you'd like to be. These common errors may be undermining your hard work:
1. Not Eating Enough Fat
You need to eat good fats at every meal, such as avocados, nuts, seeds, or coconut oil. Do not fear that fat is fattening. Getting enough fat is necessary for athletic nutrition and weight control. Fat increases satiety (so you feel fuller longer) by delaying how fast the stomach empties its contents as well as shutting off hunger hormones. Fat also helps boost antioxidant absorption (which may be related to leanness), and increases your metabolic rate to help burn more calories. Fat is a vital nutrient! It is part of the cell, so your body cannot fix a cell or construct any new ones without fat to do so. Cutting out too much fat leads to fatigue, chronic hunger, irritability, depression, weakened immune system, and increased risk of injury. Good fats will not undermine your goals.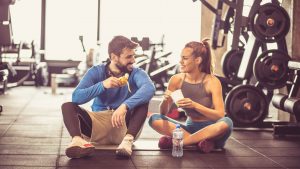 2. Unnecessary Sports Drinks
Water will accomplish hydration in most environments. If you sweat excessively for more than ninety minutes, or exercise outdoors in hot and humid conditions, then you may need the electrolytes found in sports drinks. However, most of us are sweating in a climate-controlled gym. The carb levels in sports drinks are designed to boost energy when you cannot stop to eat, but if your muscles don't actually need that fuel, one 20-ounce bottle serves up an extra 35 grams of sugar to your diet.
3. Not Refueling After Exercise
Working out is not a license to eat anything in sight, but the exercise does take a toll on your body. You have to find the balance between eating too much afterwards or not enough. You need to have the proper nutrients going back in to your body to repair the wear and tear on the muscles. It's the recovery that will boost your metabolism, making you more toned and fit.
4. Only Eating Protein After a Workout
Protein is definitely an important recovery nutrient, but it's not the only one. Veggies will replenish nutrients and antioxidants, a healthy fat will help muscles heal and will boost circulation. A little bit of a whole grain carbohydrate will resupply glycogen to the muscles. And of course, plenty of water to rehydrate.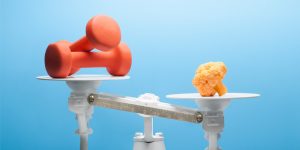 5. Doubling Up On Fuel
Unless you are a professional athlete, you do not need to eat before and after your workout. Consuming a bar or smoothie before a workout, which is followed by another meal, means your body is getting far more food than it needs for recovery.
Always consult your primary care physician before starting a new diet or exercise program.